[Sticky]

Team Pilipinas News and Updates
PBA board, national coach Yeng Guiao to meet next week, upcoming FIBA window tops agenda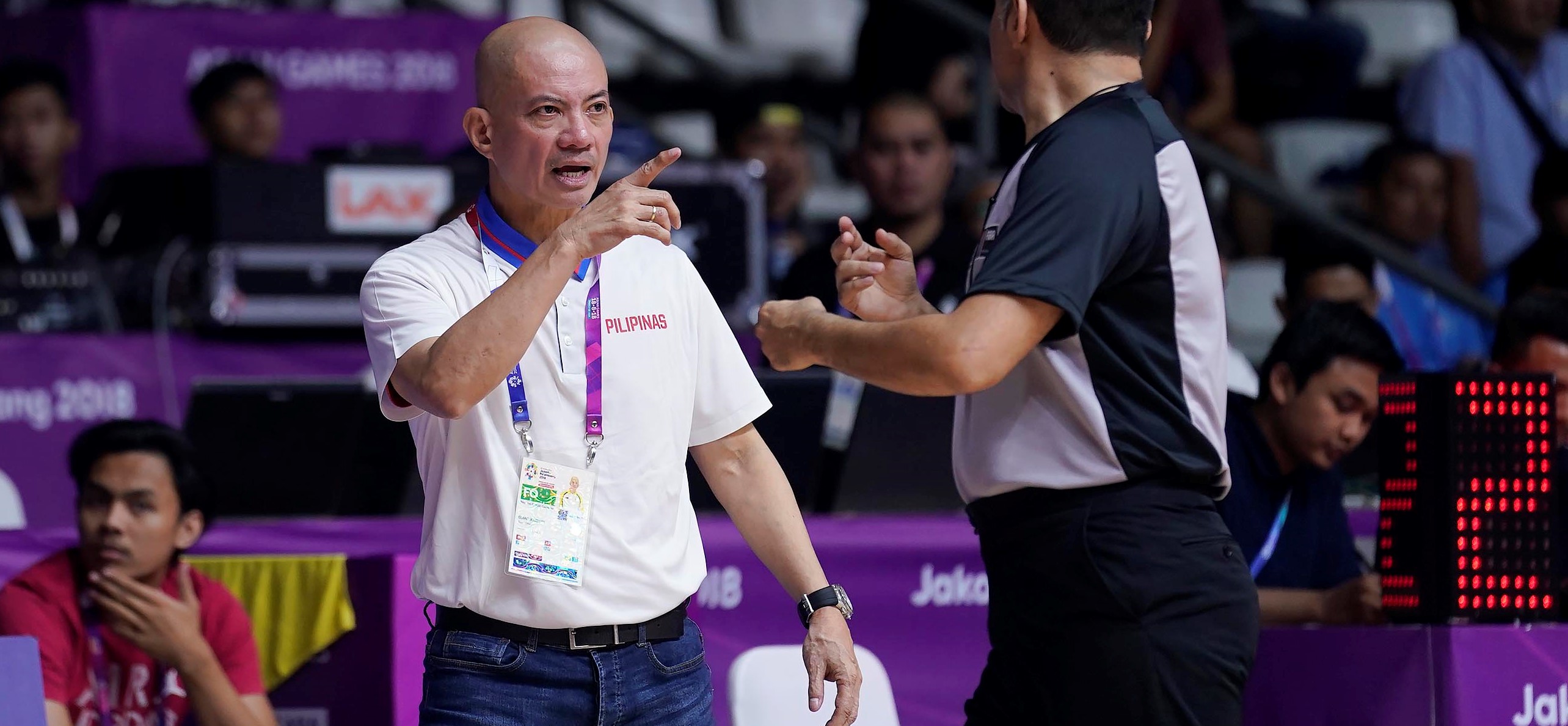 Preparation of Team Philippines for the next window of the FIBA World Cup qualifiers is expected to start shortly after national coach Yeng Guiao presents his program in a special meeting with the PBA Board of Governors on Tuesday next week at the PBA office in Libis, Quezon City.
The Nationals resume their chase for a spot in the 2019 World Cup in China with back-to-back home games at the MOA Arena in Pasay City against Kazakhstan on Nov. 30 and versus Iran on Dec. 3.
Guiao is expected to name his pool of 18 to 20 players during the meeting to be presided by TNT KaTropa's Ricky Vargas who's just been given one-year extension as chairman of the PBA board.
"Of course, the PBA governors want to know who will be the players in the pool for these players to be notified. The board also wants to know the program and the practices. Pero kahit sino ang players na tawagin, for sure ibibigay yan ng PBA," said PBA commissioner Willie Marcial.
But even before the meeting with the national coach, the PBA has also decided to take a break from Nov. 17 to Dec. 4 to give way to the fifth window of the FIBAWC qualifiers. "It may be pushed to Nov. 19 if we're to have a playoff game for the last quarterfinal berth," said Marcial.
Fajardo, Slaughter, Sotto set to head expanded Guiao pool for Fiba qualifiers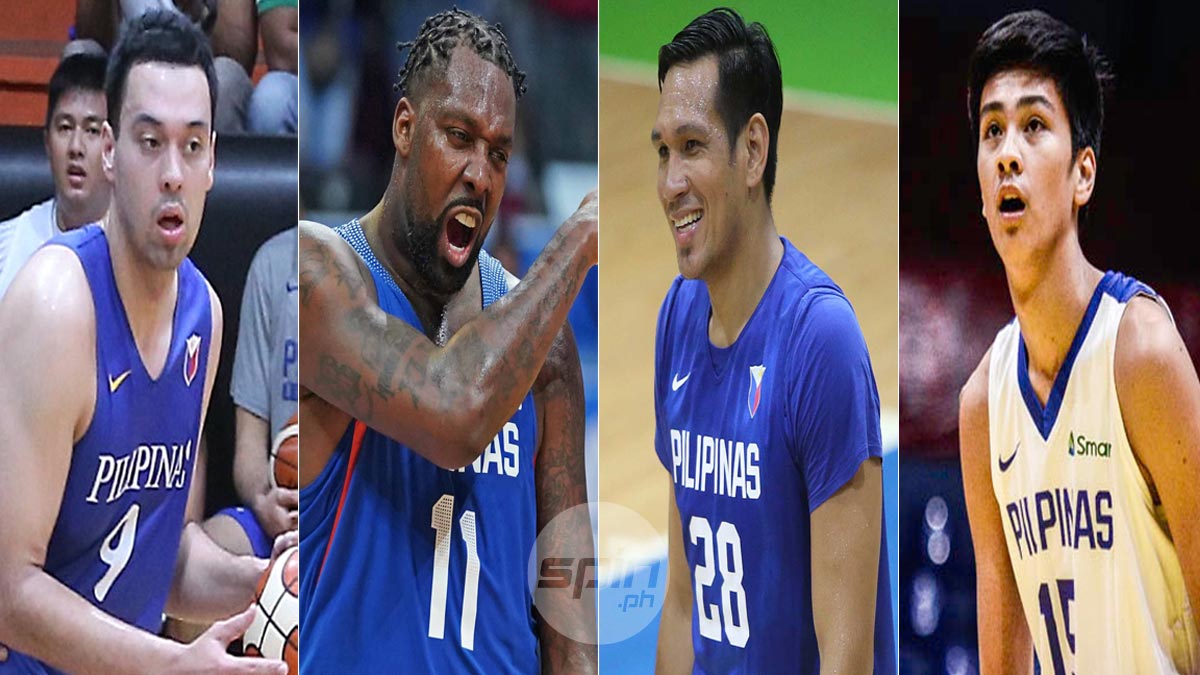 RETURNING players who have served out their FIBA suspensions are expected to be included by Yeng Guiao in the Team Pilipinas pool that will see action in the FIBA World Cup qualifiers that resume next month.
Naturalized player Andray Blatche, Jayson Castro, Terrence Romeo, and Troy Rosario will re-join the previous pool Guiao formed for the second stage of the qualifiers that kicked off last September 13.
The country will host back-to-back games against Kazakhstan on Nov. 30, followed by Iran on Dec. 3 at the Mall of Asia Arena.
Blatche, Castro, Romeo, and Rosario will serve out their three-game suspension for their roles in the July brawl between Gilas Pilipinas and Australia in the match against Kazakhstan and will be eligible for selection for the Iran rematch.
Also certain of inclusion are big men June Mar Fajardo, Greg Slaughter, and promising teen Kai Sotto, who was named to the pool in the wake of reports that he ie being recruited to join the Real Madrid youth program.
Guiao is set to present a new pool of between 18 to 20 players before the PBA board under chairman Ricky Vargas – whose term has been extended for another season - in a special meeting to be held on Nov. 6 at the league office in Libis, Quezon City.
Guiao thrilled handling tallest national team frontcourt ever in history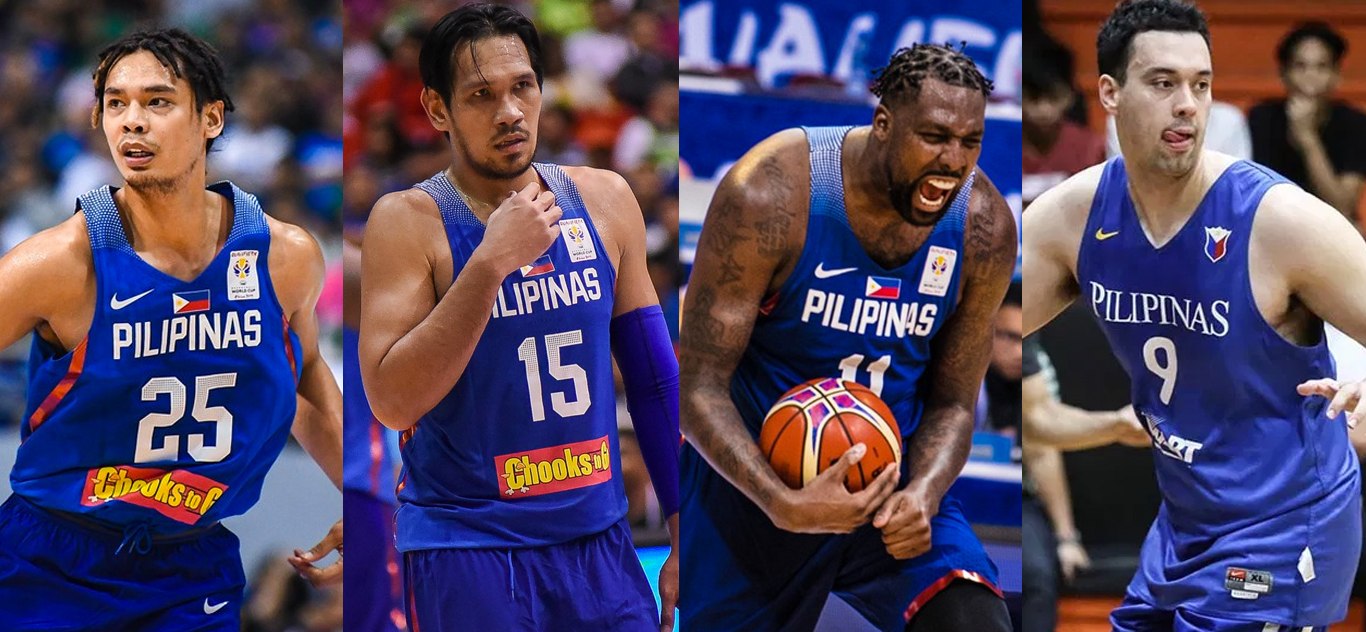 Yeng Guiao welcomed the scenario of having a huge frontcourt at his disposal when Team Pilipinas resumes its campaign in the next window of the FIBA World Cup qualifiers.
The national coach is looking forward of teaming up June Mar Fajardo and Greg Slaughter with the returning Andray Blatche at the low block as the nationals host Kazakhstan and Iran one after the other at the Mall of Asia Arena.
Team Pilipinas battles Kazakhstan on Nov. 30 before facing tormentor Iran on Dec. 3.
The 6-foot-11 Blatche however, will only be eligible to play against Iran, by which time the three-game suspension meted on him by FIBA along with Jayson Castro, Terrence Romeo, and Troy Rosario would be over.
Still, Guiao is thrilled at the prospect of handling perhaps the tallest national team frontcourt ever in history.
"For the first time in a long while, you will have June Mar, Greg, and Japeth (Aguilar) playing together in a team with (Andray) Blatche," said Guiao.
"Definitely, lalaki talaga yung lineup natin."
Injuries prevented both Fajardo and Slaughter from joining Team Pilipinas under Guiao the last time, when it lost to Iran at Tehran, 81-73, last Sept. 13, but beat Kazakhstan 92-81, in a closed-door match at the Smart Araneta Coliseum.
Guiao allayed Team Pilipinas will have to sacrifice speed for height with the presence of Fajardo and Slaughter.
"Hindi naman tayo babagal. Nakakatakbo rin naman sila June Mar," he said.
Coach Yeng Guiao names 20-man training pool; vets LA Tenorio, Arwind Santos included in the list
Yeng Guiao named four new players including two cadets, as part of his 20-man training pool for the coming window of the FIBA World Cup qualifiers.
Veterans LA Tenorio and Arwind Santos along with young ones Kai Sotto and Richie Rivero were included by Guiao in the list he presented, and later approved by the PBA Board and the Samahang Basketbol ng Pilipinas (SBP) on Wednesday.
The four were joined by June Mar Fajardo, Greg Slaughter, Japeth Aguilar, Ian Sangalang, Paul Lee, Alex Cabagnot, Matthew Wright, Marcio Lassiter, Scottie Thompson, Gabe Norwood, Beau Belga, Poy Erram, and comebacking Jayson Castro and Troy Rosario.
Listed as naturalized player are Christian Standhardinger and Stanley Pringle.
"We are very happy to announce that both the SBP and the PBA support the proposal of coach Yeng Guiao, I think it will be maybe one of the best, if not, the best team that would be ever formed to actually represent the Philippines in the international competition," said SBP president Al Panlilio during a press conference where Guiao announced the training pool at halftime of the Magnolia-Blackwater Governors Cup quarterfinals.
Fajardo, Kai Sotto lead cast as Team Pilipinas returns to practice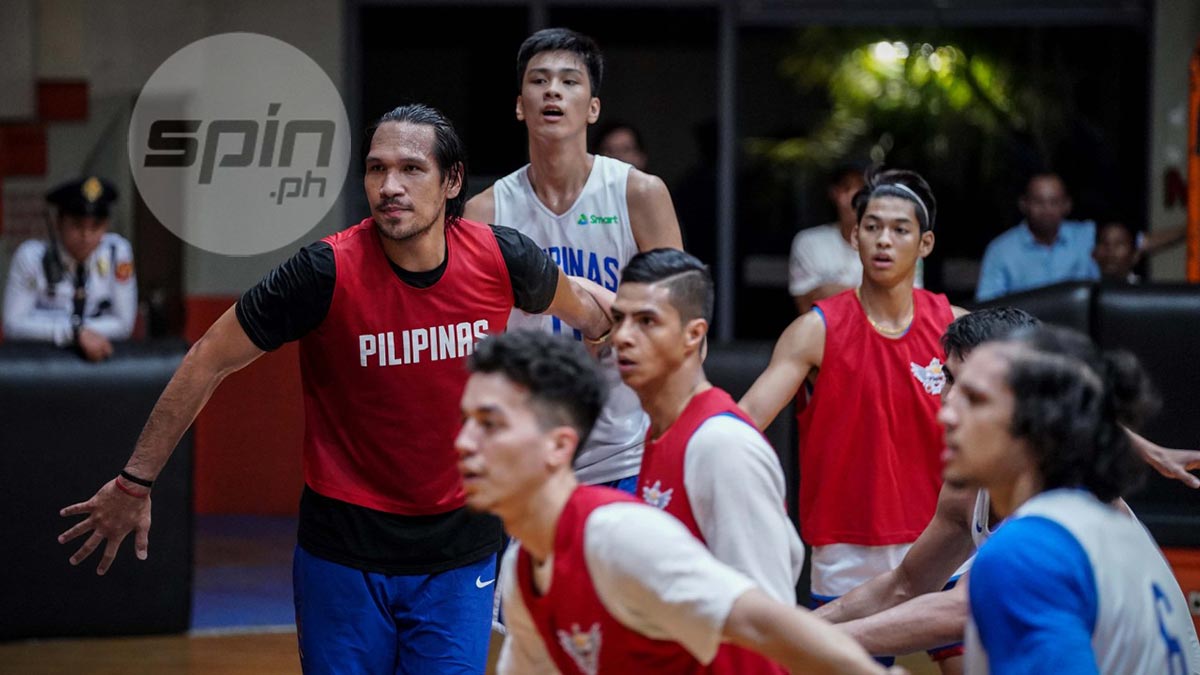 BIG men June Mar Fajardo, Kai Sotto, and Beau Belga headlined the Team Pilipinas' first practice at the Meralco gym on Monday night.
The national team led by head coach Yeng Guiao is gearing up for the fifth window of the 2019 FIBA World Cup Asian Qualifiers.
Also in attendance were Gabe Norwood, Matthew Wright, Arwind Santos, Jayson Castro, Troy Rosario, Alex Cabagnot, Poy Erram, Marcio Lassiter, and Ricci Rivero in the team supported by Smart.
Meanwhile, Magnolia duo Paul Lee and Ian Sangalang and Ginebra standouts LA Tenorio, Scottie Thompson, Greg Slaughter and Japeth Aguilar are playing in the Game Two of the best-of-five semifinals series in the PBA Governor's Cup over at the Araneta Coliseum.
San Miguel stalwart Christian Standhardinger and NorthPort guard Stanley Pringle are not present.
Team Pilipinas will face Kazakhstan on November 30 and Iran on December on December 3 both at the MOA Arena.
Team Pilipinas gets back at Jordan as hot-tempered tuneup cut short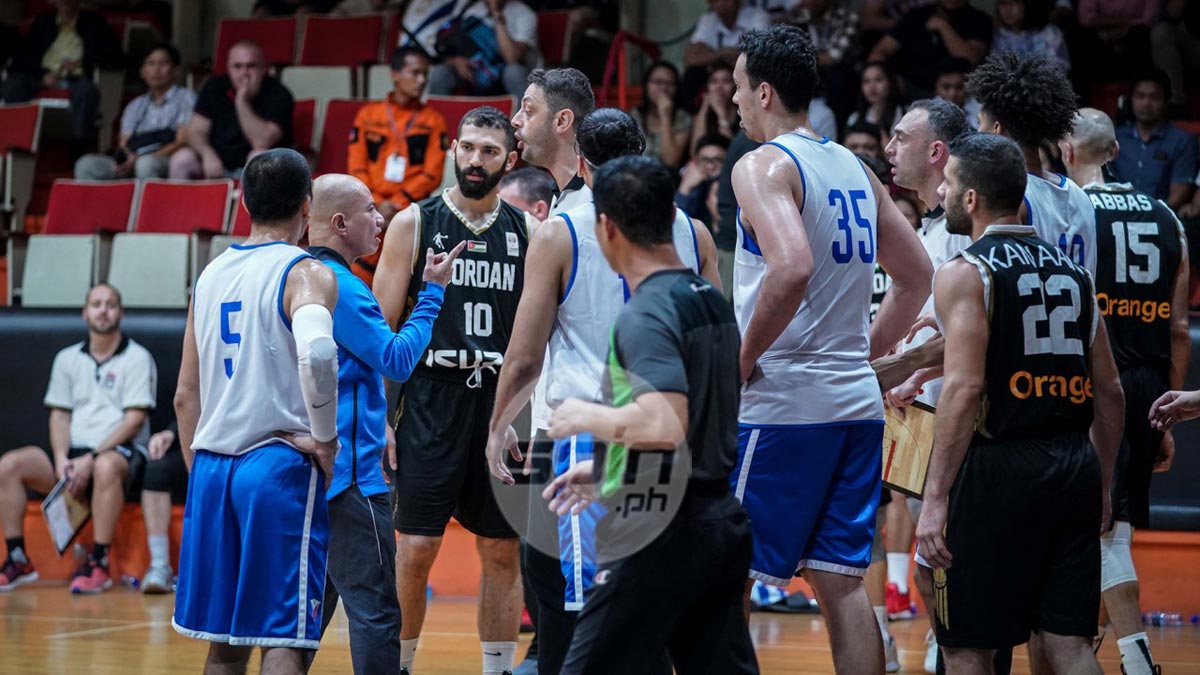 TEAM Pilipinas emerged victorious over Jordan, 82-73, in a hot-tempered tune-up game that had to be halted following a shouting match between rival coaches at the Meralco gym on Wednesday night.
Yeng Guiao furiously confronted Jordan counterpart Joey Stiebing at midcourt after a Jordan player threw the ball at Scottie Thompson at the final 6:26 mark - the last of a number of chippy confrontations between players from both sides.
Long before that, the tuneup game, the second between the two sides in three days, had seen tempers flare over the physical play of the Jordanians.
"Sinabihan niya ako, 'I'm going to take your ass.' Kaya sabi ko, 'C'mon take my ass,'" said Guiao when asked about his shouting match with Stiebing.
"I was challenging him to take my ass pero hindi naman niya ginawa," he continued."I just don't want us to be bullied in our own country. They were bullying us all the way."
In the first half, Guiao already confronted Mohammed Hussein at midcourt after the bruising Jordan big man committed a hard foul on Christian Standhardinger in the second quarter.
"Again I felt that was unnecessary. It was a takedown, tapos dinaganan niya pa si Stan," said Guiao of the incident.
Yeng Guiao says Gilas nearly ready to face Kazakhstan
Gilas coach Yeng Guiao said the coaching staff is ready to submit the final 12 to the Samahang Basketbol ng Pilipinas by Wednesday night.
Four-time PBA MVP June Mar Fajardo is expected to lead the list of players that will host Kazakhstan Friday night at the Mall of Asia Arena for the fifth window of the 2019 FIBA World Cup Asian Qualifiers.
"The usual practice is [the coaching staff] don't make the announcement. The SBP makes the announcement, so we will just submit it to the SBP," Guiao said after Tuesday's practice at the Meralco gym.
Guiao is concerned the team is not yet comfortable playing in his system. The four exhibition games against Jordan and Lebanon last week were useful barometers.
"We're 95 percent ready. We said will just try to get the five percent these next few days," Guiao said. "We have a lot of new faces and a lot of these players tend to go back to their old habits of playing in a different system. It's difficult for them to set aside from their old habits which for me is not actually wrong. It's just that they are not adopted to the system that we have."
Guiao and his staff have been busy breaking down footage of Kazakhstan's recent games, including the last contest against Japan on Sept. 13.
Ginebra quartet join Fajardo in Final 12 for PH game vs Kazakhstan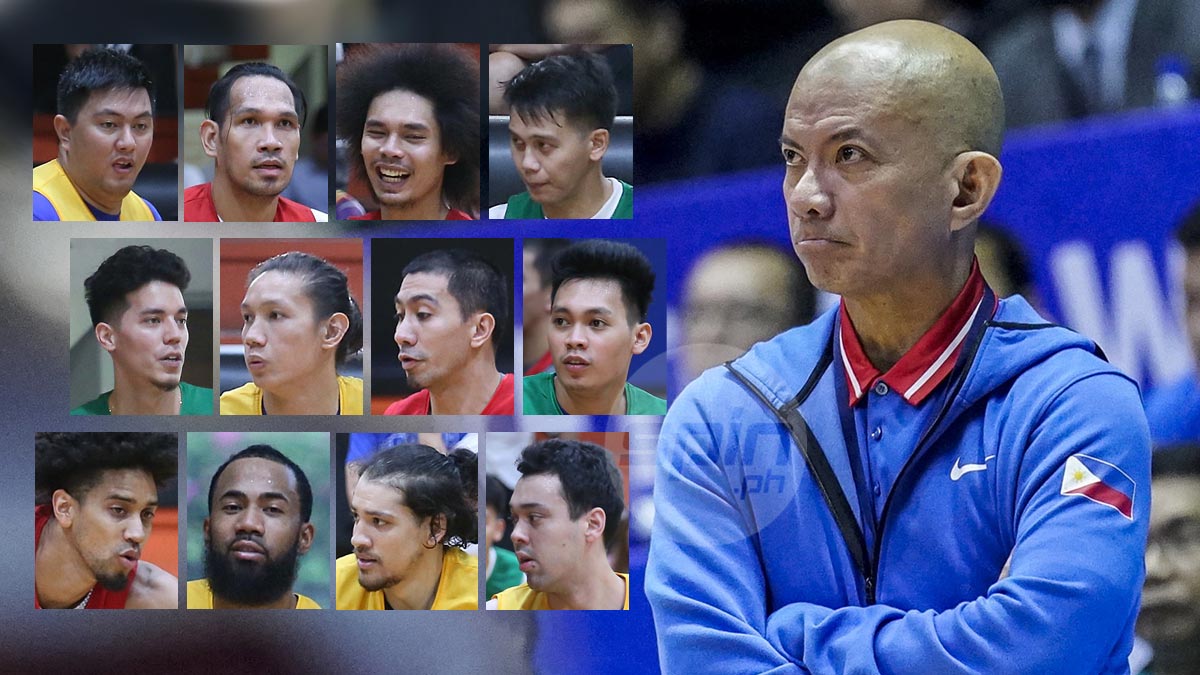 THE Ginebra quartet of LA Tenorio, Greg Slaughter, Japeth Aguilar and Scottie Thompson joined June Mar Fajardo in the 12-man Team Pilipinas team that will play Kazakhstan on Friday in the fifth window of the Fiba World Cup qualifiers.
San Miguel's Alex Cabagnot and Marcio Lassiter, Rain or Shine veterans Gabe Norwood and Beau Belga, Poy Erram of Blackwater, Matthew Wright of Phoenix and naturalized player Stanley Pringle of NorthPort round out Yeng Guiao's 12-man team.
The 12-man roster will look to improve the Philippines' 5-3 win-loss record - good for third place in Group F. The top three teams in Group E and F and the best fourth-placed team will earn tickets to the Fiba World Cup next year in China.
Guiao will still name another 12-man roster for Team Pilipinas' match against Iran on Monday at the Mall of Asia Arena.
Team Pilipinas comes up short in loss to Kazakhstan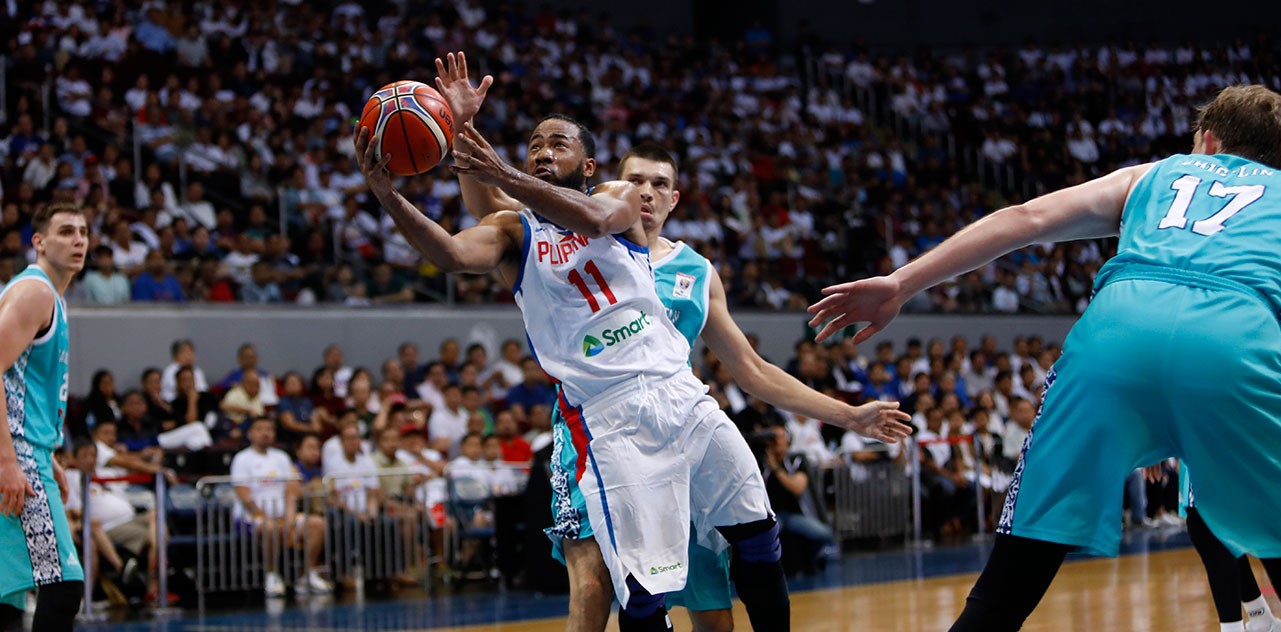 Gilas Pilipinas ran into a well-prepared Kazakhstan side three months from their last matchup and suffered an 88-92 loss that put them in a precarious spot nearing the end of the FIBA World Cup qualifiers.
With the heartbreaking defeat, the Nationals dropped to joint third place with the Japanese at 5-4 in Group F play.
Earlier in the day, the Japanese defended their turf in Tokyo, dumping Qatar, 85-47.
The Kazakhs showed much improvement from their blowout loss to the Filipinos in their Asian Games matchup in Jakarta in August, humbling Gilas before its huge cheering crowd at the MOA Arena.
"We were mismatched in terms of quickness," said national team coach Yeng Guiao at the post-game press conference.
Arwind, Standhardinger, Castro in, Slaughter out in PH team vs Iran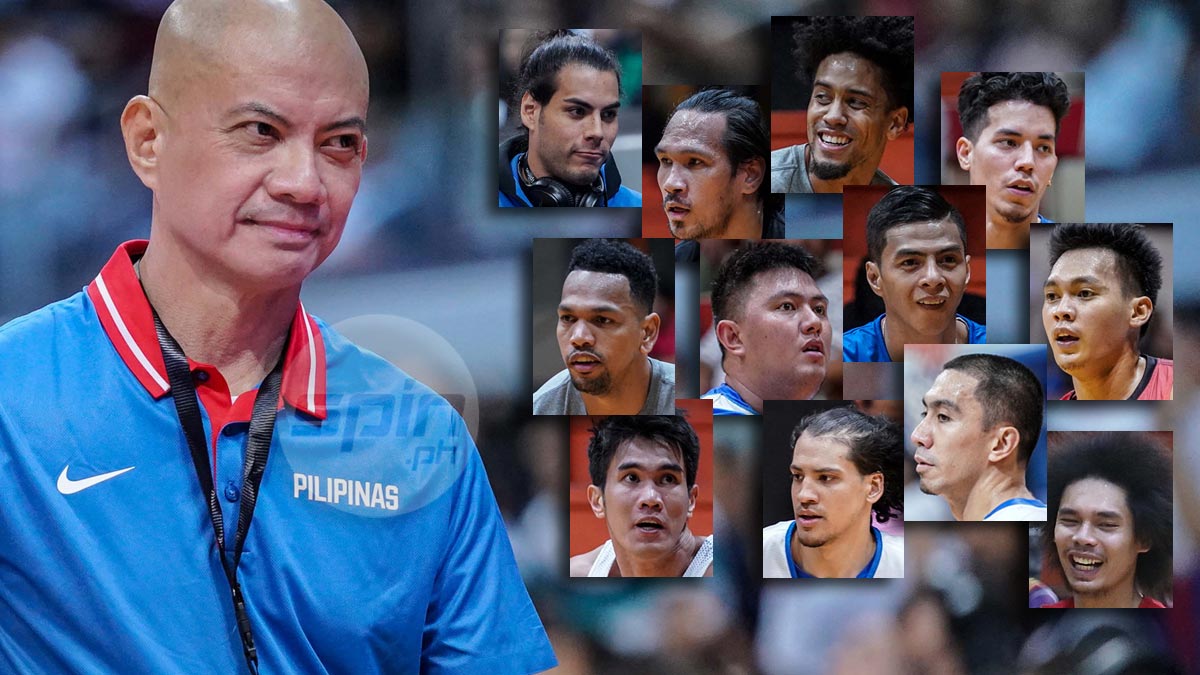 NATURALIZED player Christian Standhardinger and four-time PBA MVP June Mar Fajardo will head the 12-man Team Pilipinas lineup for its match against Iran on Monday at the Mall of Asia Arena.
Barangay Ginebra players Japeth Aguilar, LA Tenorio, and Scottie Thompson were retained from the team that lost to Kazakhstan on Friday, along with Beau Belga, Gabe Norwood, Marcio Lassiter and Matthew Wright.
Aside from Standhardinger, who took over the naturalized player spot from Stanley Pringle, the other new faces are Arwind Santos, Troy Rosario, and Jayson Castro.
Curiously, Greg Slaughter of Ginebra, who didn't attend Saturday night's practice, was not part of the 12-man lineup. Also left out were Alex Cabagnot and Poy Erram.
A big blow for Team Pilipinas
In a virtual repeat of their previous match, Gilas Pilipinas waged a tough fight throughout but sagged at the finish and bowed down to Iran, 70-78, in the FIBA World Cup qualifiers Monday night at the MOA Arena.
It was a crucial loss that dropped Team Phl down to fourth place going into the final window of the FIBAWC eliminator.
Worse, the Nationals are playing their last two games on foreign soil versus Qatar and Kazakhstan.
Australia and Iran stayed first and second in Group F and Japan moved past the Philippines following an 86-70 victory over Kazakhstan at home earlier in the day.
"We still lacked maturity. We're not cohesive as we want to be at this point. But the guys really tried their best," said national team coach Yeng Guiao.